Description

This handmade bolt action bullet pen was made as a special commission as a Christmas present for a keen shooter.
The pen has a real bolt action which opens the ballpoint pen! No twisting or clicking to do.  Grab the bolt action and slide it down, lock it in place and start writing.
Any shooter will appreciate how this pen works and it will be the talk of the town.
Made from a genuine Perazzi walnut shot gun stock to compliment the deep 22ct Gold plate and Gunmetal components.  What a perfect gift idea!
The replica .30 calibre bullet cartridge and the chrome bullet tip both add authenticity to the look of this pen.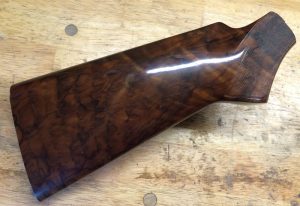 The body of the pen was created from a damaged shotgun stock, hand turning a piece of Perazzi Turkish Walnut to the required diameter. It is then sanded smooth with several grades of abrasive finally using 12000 grit micromesh to  finish it to a mirror polish.  Four coats of a special hard polish are then applied. Each being buffed to a high shine on a revolving lathe.
 Perazzi Shot guns are some of the best in the world. Their stocks and forends are made of the finest quality Walnut root from centuries-old trees, like the one in the photograph.. Each blank is carefully selected and classified before they are subjected to a long drying processing before being made into stocks. Grading is based on the detail and colours of wood grain. This stock was graded SCO which is the highest grade Perazzi use.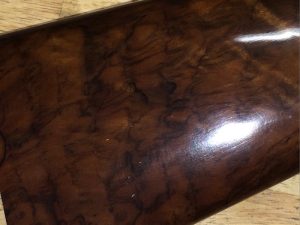 The main external components are glossy deep Gunmetal plated to provide durable and dependable service. The rifle shaped clip and primer cap are finished in a contrasting  22ct Gold plate.
The pen is very stylish and shows well in all lighting conditions and will make a memorable gift for any occasion, such as a Birthday, Father's Day, Christmas, or Graduation Day.
Comes with a black ink refill and a velvet sleeve. Replacement of the Parker Style ink refill is done by unscrewing the tip and replacements can be found at most stationers.
You'll also receive a Certificate of Authenticity with each pen ordered.
Product dimensions are the size of the pen inside its box. The pen in the picture is the one you will receive.
If you are interested in multiple pens, please contact us. Since each pen is a unique work of art, exact duplicates are not possible but we will do our best to create duplicates of the pen, using the same wood and finish.
Handmade Pen Product Details
Made in the Tamworth UK by Mike Topp
Hand turned from genuine Perazzi  Walnut shotgun stock / High Gloss 22ct Gold and Gunmetal plated finish
Impressive .30 Calibre Bolt Action pen – impress your friends!
Easy to replace ink cartidges – Parker Style Refill available at most stationers
What's Included with your Ballpoint Pen Purchase
Includes the handcrafted pen in the pictures shown above
Includes ink refil – ready to use
Includes velvet protective pen sleeve
Includes Certificate of Authenticity
Additional Information on Handcrafted Pens
All of the pens on The Forest At Your Fingertips website are handmade and handcrafted on a lathe in my workshop
Each picture of a pen is the actual pen that you will receive
Most products will ship within 48 hours
Each pen is unique, no two will ever be alike since they are handcrafted works of art
All pens are shipped in boxes, and packed carefully
Not suitable for use with our Maple & Walnut wood presentation box