Description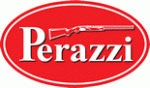 This is an unusual pen design inspired by my best selling bolt action pen mechanism, this Gearshift Antique Pewter pen is an ideal gift for any car enthusiast.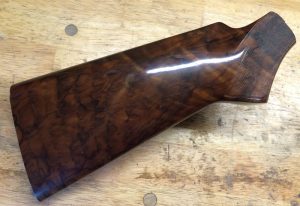 The body of the pen was created from a damaged shotgun stock, hand turning a piece of Perazzi Turkish Walnut to the required diameter. It is then sanded smooth with several grades of abrasive finally using 12000 grit micromesh to  finish it to a mirror polish.  Four coats of a special hard polish are then applied. Each being buffed to a high shine on a revolving lathe. Perazzi Shot guns are some of the best in the world. Their stocks and forends are made of the finest quality Walnut root from centuries-old trees, like the one in the photograph.. Each blank is carefully selected and classified before they are subjected to a long drying processing before being made into stocks. Grading is based on the detail and colours of wood grain. This stock was graded SCO which is the highest grade Perazzi use.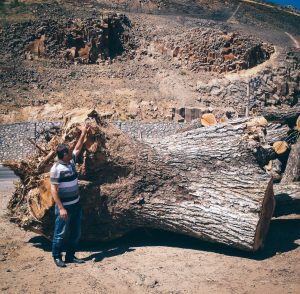 The mechanism design is based on a five-speed H pattern car gear change and can be shifted just like the real thing! Authenticity abounds; The cap features a car tyre with a true to life tread and hubcap. The tip features the same tyre tread as the cap. The gear knob includes an etched five-speed pattern. And the industrialised crowbar clip attaches to the body with two small screws rounds to out the design.
The refill fully advances at the front of the shifter and fully retracts at the back of the shifter.
The design uses a popular Parker style refill which can be accessed by unscrewing the tip to  reveal the refill. Replacement is simply a reverse of the process.
Handmade Pen Product Details
Made in the Tamworth UK by Mike Topp
Highly polished genuine Perazzi shotgun stock Walnut  body / Deep Chrome polished metal components
Impressive eyecatching pen – impress your friends!
Easy to replace ink cartidges – "Parker" Style Refill available at most stationers
What's Included with your Ballpoint Pen Purchase
Includes the handcrafted Gear Shift pen in the pictures shown above
Includes black ink  – ready to use
Includes velvet protective pen sleeve
Includes Certificate of Authenticity
Additional Information on Handcrafted Pens
All of the pens on The Forest At Your Fingertips website are handmade and handcrafted on a lathe in my workshop
Most products will ship within 48 hours
Each pen is unique, no two will ever be alike since they are handcrafted works of art
All pens are shipped in boxes, and packed carefully