The Forest At Your Fingertips
Artistic hand-made writing instruments
Handmade Pens
First impressions count. That is why the type of pen that you use reflects upon you. My  handmade pens are made to the highest standards, and are works of art. Each one is guaranteed to make a great impression on you and those around you. Make an impact by giving a handmade pen as a gift for that special occasion. We have quick delivery and first class customer service. If you would like something extra special then why not consider contacting me to order a custom handmade pen for that extra special gift?
I received one of these unique pens for Christmas & what a gem it is ! Fantastic styling & smoooth to use ! I heartily recommend them !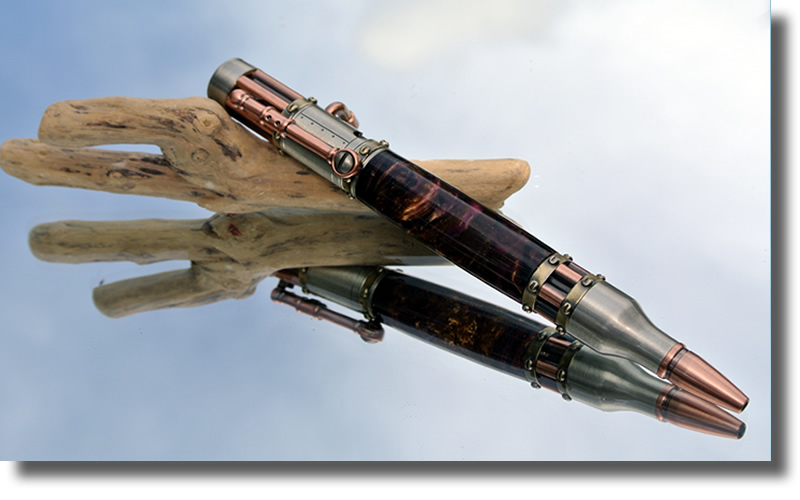 If you are unable to find the exact pen to buy contact me to discuss your ideas and requirements. I haven't failed to satisfy a customer yet.
I have an ever growing selection of materials to create these works of art from. They range from traditional hardwoods, exotic hardwoods, polymers, bone, antler  through to carbon-fibre
Individual handmade pens by Mike Topp.
No two pens are the same. They are unique! When you buy a The Forest At Your Fingertips handmade pen, you select an individual pen from those currently offered for sale. The handmade pen in the photograph is the one you will receive, unless you commission your own design. They are usually available in gold plated, silver plated, copper plated, and gunmetal plated. Whilst I usually keep a wide selection of handmade pens & pencils in stock. I do take orders for custom handmade pens and pencils.
Just wanted to let you know that I received the pen today and it is absolutely beautiful. Thank you and I will definitely order more in the future.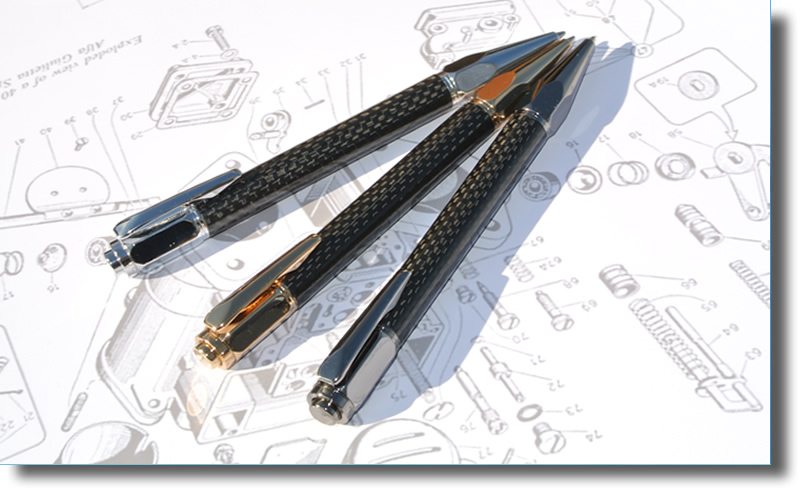 The Vertex range of carbon fibre pens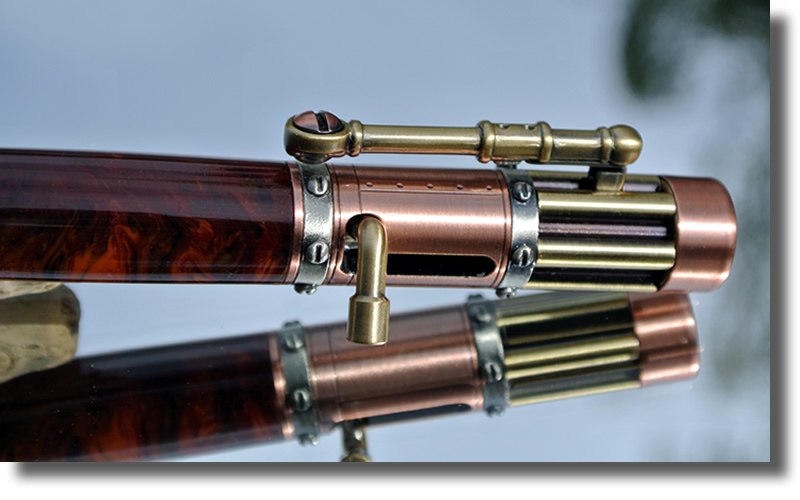 The
NEW
Steampunk Collection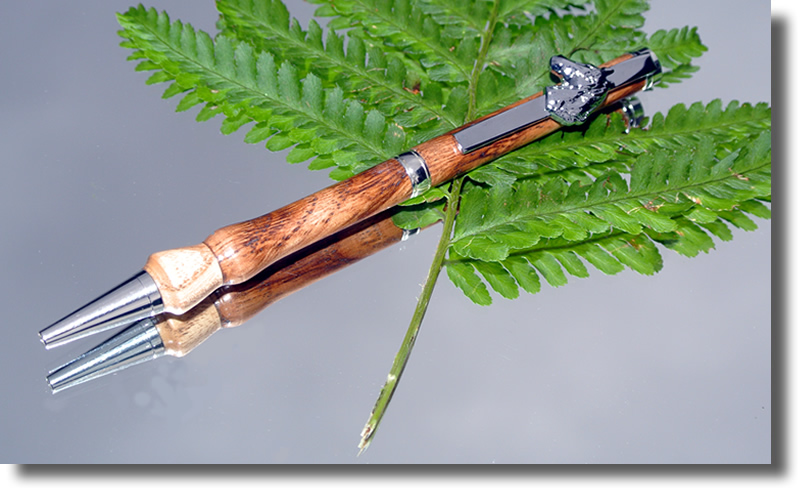 Custom designed pens available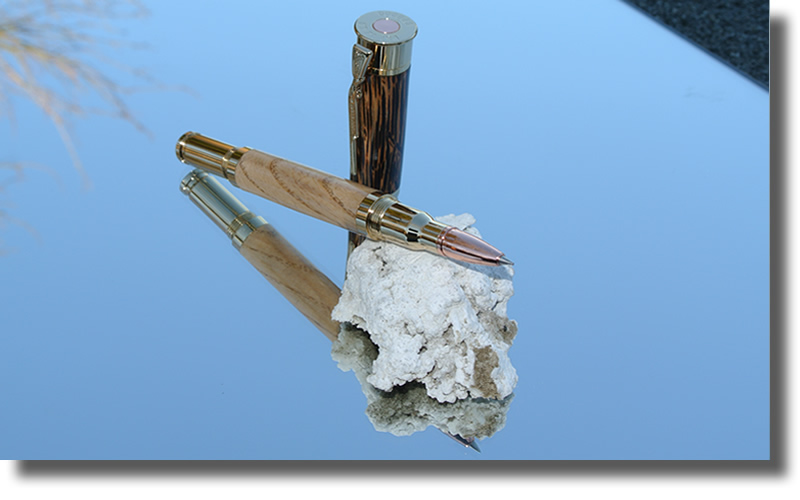 Shooting themed pens a speciality
I gave Mike a fairly generic brief by asking him to create a pen with a Japanese theme for a school teacher. With the simplest of briefs Mike was enthusiastic and committed to making sure the pen was perfect and that we were happy. I am pleased to report that with Mikes creative flair, undoubted talent and commitment to customer service, the pen we have received has exceeded all expectations. It is utterly perfect in every way, aesthetically, practically and personally. It will be treasured for a long, long time. Thanks Mike. ***** 5 Stars (Can`t recommend enough) Thanks Jon.
Mike Topp began wood turning as a hobby over 20 years ago when working as a Design & Technology teacher. Now retired from full time employment he makes high quality handmade pens and other writing instruments from wood and acrylic materials. Mike sells his handmade pens through this website and by recommendation. Writing instruments can be made to commission, contact through the contact page to discuss options.
Mike uses many types of wood in his work ranging from locally sourced material to exotic tropical timbers like Kingwood, Cocobolo and Rosewood. All of his timber supplies are obtained from FSC (Forest Stewardship Council) accredited sources or are reclaimed. He has even used Damson, Apple and Cherry Laurel from his garden. The metal components he uses are of the highest quality and plated with a variety of finishes including titanium, platinum, gunmetal and gold. Many of the parts are imported from specialist suppliers from as far away as USA and Australia to ensure that each writing instrument is truly individual.
pens, wooden pens, wooden gifts, gift ideas, staffordshire, lathe, turned, high quality, pens for sale, special gift, present, gift
I've just finished my latest project - A very special pen for a very special couple to use to sign their wedding certificates with. Made from home grown magenta flowered Lilac wood which symbolises 'love and passion' This pen also has a Swarovski crystal embedded in...
read more