My latest commission was this unusual fountain pen and case  made from a single branch of Damson wood from my garden. It's now residing on an office desk in Toronto, Canada!
The presentation case was cut from the same Damson tree branch as was used to make the pen. It was sliced in two and the inside routered out to allow the pen a snug fit. The cut surfaces were then sanded and polished to a high sheen to contrast with the rough exterior bark. Two sub-miniature barrel hinges were used to complete the case.
The body and cap were turned from a single blank to enable the streaking of the spalted Damson grain to follow through from body to cap.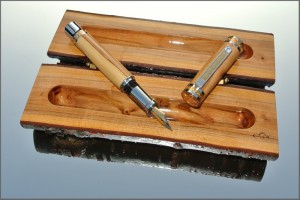 The pen itself is made using 22ct gold plated banding and a highly polished chrome nib holder. The nib itself was made in Germany to a high quality design using and Iridium allow which not only looks gorgeous, but it is also hard wearing but smooth to write with.
If you would like to discuss a similar project for yourself or to give as a special gift for someone, please contact me through the contact page
(click images to enlarge)